Under cover of darkness, certain watches come into their own, generally for the purely functional purpose of being able to read dial indications without light – at night, for example, or under water. Indeed, since the first luminescent substances were invented in the nineteenth century, phosphorescence has been an essential aspect of any tool watch. Outside of this category, it has tended to play a discreet supporting role, but as innovation brings new possibilities, brands are letting their imagination shine and using luminescence to creative ends on watches of all stripes. Following on from MB&F and Sarpaneva, both of which collaborated with Black Badger in 2015 (see box), Montblanc and Bovet have this year presented watches that put on a glow. Turn up the brightness as we answer the question, what's new with lume?
Ceramic magic
In 2014, Montblanc developed its "mystery dial" that deliberately hides its light under a bushel. The concept made its debut on the Homage to Nicolas Rieussec, whose off-white ceramic hour circle glows in darkness to reveal otherwise invisible Arabic numerals. This year the concept returns in black on the TimeWalker ExoTourbillon Chronograph LE 100 All Black DLC. Its excellent visibility meets sport-watch expectations, with the added magic of a luminous band that appears only at night. In daytime, the full black dial goes perfectly with the motor-racing inspired design; even the movement has been given a black rhodium treatment. The 'mystery dial' concept is a means of creating unexpected effects and, says Montblanc, could one day be the basis for a "distinctive night-time signature".
As well as the traditional method of depositing pigments on a surface, many new materials from composites to ceramic can be made to glow, and in a host of colours.
Davide Cerrato
This innovative material is produced by Invicon, an Austrian firm, and uses tone-on-tone ceramics – one luminescent, the other non-luminescent. The two shades – another advantage of this technique is the virtually limitless palette – are impossible to distinguish one from the other in daylight, and there is indeed more to them than meets the eye: a first layer of ceramic, HyCeram, is laser-engraved with numerals or some other design. These cavities are then filled with luminescent ceramic, HyCeram SLN, which contains 35% to 70% Swiss Super-LumiNova (SLN) pigments. The whole thing is then polished to a sheen. And lo and behold: invisible by day, the pattern reveals itself in the dark.
MB&F Novelties at Baselworld 2016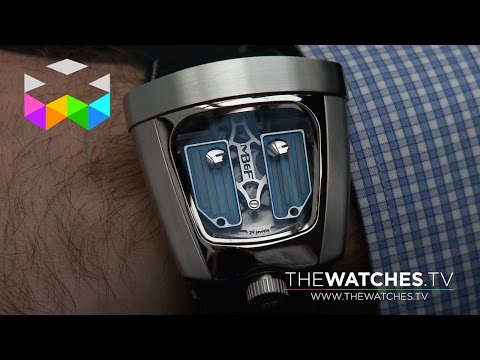 Further proof that it isn't afraid of the dark, this new material presents all the usual advantages of ceramic. It ages gracefully, showing no sign of wear or scratching. Different finishes can be applied to its surface, and it can also itself be applied to various materials, thereby opening up new possibilities such as adding luminescent markings directly to the crown or the bezel, without the need for encapsulation or another form of protection.
A brush with light
A world-first: in April this year, Bovet unveiled a dial depicting a miniature-painted butterfly that appears differently by day and by night. Since then, the brand has applied the technique to a floral composition and to a tiger. Its latest incarnation, for the Only Watch 2017 charity auction, is the Secret Beauty dial. Demure by day, in the intimacy of twilight a geisha lets her kimono slip – Bovet's tribute to the erotic watch tradition.
Sarpaneva Watches – Korona K0 Northern Lights – day and night
The endless choice of subjects shouldn't distract us from the difficulties inherent to such a technique. The artist who brings these depictions to life effectively paints each one twice – once in traditional paint and once in SLN (Super-LumiNova) pigments, which are visible only at night. Of course the artist needs light in order to work, hence he or she must go constantly back and forth between a normally lit studio and a darkened room in order to check how the painting is progressing. The granular nature of the SLN pigments presents a further difficulty given the delicate nature of the work, but can also be turned to advantage to produce a three-dimensional effect or a velvety appearance. The non-luminescent paint is applied on top of the pigments, in the thinnest possible layer so as not to obscure the design underneath. Lastly, the artist highlights certain "strategic" points with more luminescence. The finished dial therefore features not one but two miniature paintings "sandwiched together" yet entirely distinct one from the other. Imagine the realm of possibilities: secret messages that can only be read in darkness, painting on enamel and other substrates, even a combination of paint and gold powder.
This, then, is how watches shine in 2017: contemporary and mysterious at Montblanc or, for the first time, purely artistic at Bovet. Thanks to phosphorescence, the night takes on a whole new dimension and we can expect to see more and more watchmakers go over to the dark side.