Clouds have lifted for luxury sales. After Swatch Group and LVMH, Hermès has published its latest results. On February 8th, the family-owned company announced a 4.6% rise in sales for the fourth quarter 2017 at constant exchange rates. Famed for its Birkin bags and silk scarves, the French firm reported sales of €5.55 billion for 2017 as a whole, with organic growth of 8.6%. Despite outperforming the 6% average for the luxury market, this was still below forecast and considerably less than LVMH which progressed by 13%. The contrast is especially marked in the watches segment, where the world's biggest luxury group increased its sales by 10% year-on-year, whereas Hermès added just 1.4%. Speaking before results were announced, at the Salon International de la Haute Horlogerie (SIHH) in January, Guillaume de Seynes, CEO of La Montre Hermès, conceded that the brand had experienced some "complicated years" for watchmaking, but declined to give figures, adding that there had been an upturn in sales in 2017, particularly in the company's own stores. This one sour note hasn't weighed on the company's exceptional profitability, which reached a record 34.3% at the end of the first half of last year. Full results will be reported on March 21st.
Win over male customers
While all business lines strengthened in 2017, globally sales softened in the fourth quarter. Only Perfumes and Other Hermès sectors (Jewellery, Art of Living and Tableware) reported double-digit growth at year-end. Leathergoods came in just under at +9.7%. Watches were hit by negative currency effects and even dropped by 0.3% at current exchange rates. Hermès intends to redress this situation, in particular by working on its men's watch ranges.
We haven't yet reached the stage where Hermès springs to mind for a man who is looking to buy a good watch.
Guillaume de Seynes
For the brand's first participation at SIHH – held January 15th to 19th in Geneva – the emphasis was very much on the Carré H watch for men. "Twenty years ago, we were focused essentially on quartz with very little, even nothing at all, on the mechanical side," said Guillaume de Seynes in his talk to an audience at the SIHH Auditorium. "Hermès isn't more for men or more for women, even though we do sell some 650,000 ties per year and our men's ready-to-wear business is very strong. We were, however, lacking a watch that could interest a male clientele, hence our partnership with Vaucher Manufacture [Hermès took a 25% stake in the movement-maker in 2006], thanks to which we have extended our men's range, although we haven't yet reached the stage where Hermès springs to mind for a man who is looking to buy a good watch."
SIHH 2018 - Guillaume de Seynes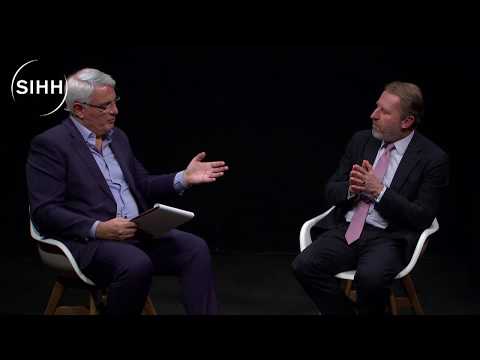 Stronger online presence
The Carré H should roll out in all Hermès' own stores, which remain free to choose the products they carry. The group has already completed renovation and extensions on some twenty of these stores worldwide. "We make the majority of our sales in our stores," noted Guillaume de Seynes. "In unit terms, they account for around two-thirds of items compared with one-third in the external circuit, although only Hermès watches and perfumes are available in this external network. All other products, in particular jewellery, are sold only in Hermès stores. We made this choice forty years ago and are sticking to it, even though developments these past few years have led us to be even more selective with regard to our external network, which therefore weighs less in terms of unit sales."
A pioneer in online luxury, Hermès has operated an e-commerce site since 2001 and intends to develop its online activity further. "It's become quite an important channel, even though it accounts for only a marginal share of our global revenues," said de Seynes. "Online sales are the equivalent of a very large Hermès store. All our product categories are available, although watches are still hard to sell online." A new version of the site, better suited to mobile devices, launched in the United States last autumn, to be followed by Europe this spring.