Come 1969, the watch world had just about given up on mechanical high frequencies, searching instead for ways to industrialise alternative means of regulation that used ultra-high frequencies. A first and important step in this direction had been made by Bulova, whose Accutron calibre was built around a tuning fork vibrating at high frequency. And so it was that quartz took watchmaking into a new era. Advances in technology enabled deep, precision cutting, hence the quartz bars which previously had to be hand-cut under a magnifier by specialised workers could now be industrially manufactured. The race was on. In 1967, the Centre Electronique Horloger (CEH) in Neuchâtel, Switzerland, unveiled its Beta 21 calibre. On December 25th 1969, Seiko introduced the Astron, the first serial-produced quartz watch.
Watchmaking had discovered a new dimension. Out went the oscillating balance wheel, replaced by a rotor responding to electrical pulses channelled through a stator. Even though Switzerland would be outpaced by the competition, it was down to a Swiss manufacturer, Girard-Perregaux, to set the standard frequency of 32,768 Hz for all quartz calibres. The final blow to an already struggling industry came with the dematerialisation of the time display. Gears and physical regulators (rotors, stators) were abandoned and time was shown on liquid crystal displays (LCD). Regulating systems with a balance wheel and a detached escapement would be consigned to history… were it not for the enthusiasts who, having experimented with cold hyper-precision, forgave the traditional mechanical watch its frank imprecision!
Micro-Rotor Roller Natural Escapement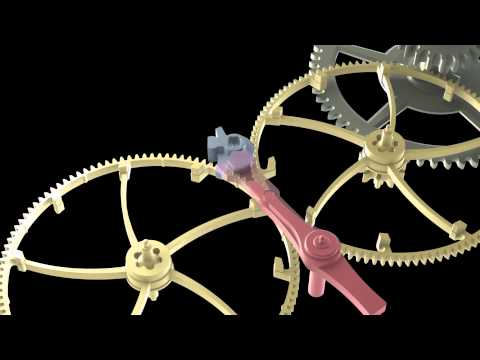 Mechanical high frequency
Since the mainstreaming of quartz and the return to favour of mechanical calibres, few brands have tackled high frequencies for their serial production. Apart from Zenith, whose El Primero movement continues to reign supreme, especially since the addition of the Striking foudroyante chronograph hand, TAGjHeuer can take credit for putting high frequencies back on the table with the launch, in 2006, of its Calibre 360. Time measured at the tip of its chronograph hand is precise to 1/100th of a second, courtesy of an additional module whose balance beats at 360,000 vibrations/hour. TAG Heuer wasn't the only manufacturer with high frequencies on its mind. Also in 2006, Audemars Piguet rolled out its new high-frequency escapement. Inspired by the work of Robert Robin, an eighteenth-century French watchmaker, and combining aspects of lever and detent escapements, this novel solution never took off as expected. In 2010, Breguet presented the Type XXII chronograph whose balance wheel reaches a "speed" of 72,000 vibrations/hour. A silicon escape wheel and balance spring do away with the need for lubricant.
By launching its chronograph slightly ahead of schedule, Breguet took the lead on Zenith's highly-anticipated El Primero VPH 72000, as well as the big reveal which Chopard had initially planned for the following year's Baselworld. However, no-one had anticipated two game-changing innovations, both from TAG Heuer. One was the Carrera Mikrograph, an automatic chronograph whose in-house movement incorporates two balance wheels, one vibrating at 28,800 vibrations/hour for timekeeping and the other at 360,000 vibrations/hour. The second, the Mikrotimer Flying 1000 Concept Chronograph, was a revolutionary prototype that measures 1/1,000th of a second by means of a regulator similar to the ones fitted in sports timers. Not to be outdone, Montblanc came to SIHH 2012 with the TimeWriter II, a chronograph also with two balance wheels vibrating at different frequencies.
New-generation escapements
Just when it seemed manufacturers had ticked all the boxes, a handful of individuals remained convinced of the potential for an escapement that would render the ubiquitous lever escapement obsolete. This new system would be more precise, use less energy, and have better frictional performance thanks to optimal lubrication (and possibly no lubricant at all). One of the most efficient solutions of recent years was developed by George Daniels, the supremely talented Englishman whose essays and research inspired a generation of aspiring watchmakers, most of whom are now masters of their trade. One of his most accomplished findings is the co-axial escapement – although historical accuracy obliges us to note its similarities with another escapement, this one developed by Charles Fasoldt, who emigrated to the United States from Dresden, Germany.
Having acquired Daniel's technology, Omega prepped it for industrial-scale production, starting in 1999. The co-axial escapement now equips virtually all of the brand's high-end mechanical watches. Further enhancements have been made over these twenty years, including resistance to magnetic fields thanks to a silicon (Si14) balance wheel with horizontally-positioned, internal regulating screws coupled with a silicon balance spring. The impulse wheel has also been modified with virgule-shaped teeth to improve efficiency. This innovative escapement, parts of which are similar to those in a detent escapement (Omega compares the two on its website), was originally designed to operate without lubricant, and while this isn't the case, it is nonetheless an extremely efficient system that can be adjusted with lasting and highly satisfactory results.