Industry is in the throes of change. The digital revolution sweeping through every sector promises intelligent, interconnected, agile factories capable of adapting to what increasingly resembles bespoke production. A system in which new technologies – big data, machine learning, cobot, predictive analytics – chip away at the boundaries between physical and digital. EPHJ, a trade fair for high-precision industries and technologies that ended June 21st in Geneva, revealed a number of interesting innovations. It also pointed to a reluctance that persists within the watch industry to embrace these technologies. The sector might appear a prime candidate for flexibility, the fourth industrial revolution means sharing data, and that is not what the watch industry does.
GF Machining Solutions, a leading provider of machines including for precision-component manufacturers, was one of the finalists for the Exhibitors Grand Prize with its wire-EDM cutting machine. A cross between predictive analytics and embedded intelligence, it resolves the imperfections of this technique, namely surface finish, slowness and, most of all, the risk that the wire will break. "Electrical discharge machining removes material using sparks," explains Christophe Thibaud, Sales Manager. "But when there is too much energy, the wire can break." Previously, machines were set to run at a slower speed when cutting the more delicate shapes, which leaves marks on the component. "Our solution measures the intensity of the spark even before it's produced and adapts the machine's behaviour in real time." Data is processed to the micro-second so the process can be constantly monitored.
Zero programming
Crevoisier, another of the machine manufacturers showing at the fair, was kept busy throughout the four days of the show demonstrating its new 4.0 polishing cell. The product, which launched at EPHJ, took two years to develop in collaboration with a major watch group and an investment of almost CHF 2 million. The machine is an example of one of the very latest technologies in industry: the collaborative robot or cobot. Whereas a classic industrial robot can be dangerous for the people working around it and therefore requires a safety guard, a cobot is designed to execute simple tasks, at slower speed, alongside humans.
Crevoisier's user-friendly cobot doesn't even need programming. Its human colleague simply takes hold of its arm and "shows" it the movement to perform. The machine records this information and repeats the movement. No other parameters are required. Five years ago, Crevoisier was awarded the EPHJ Innovation Prize for the Policapture, which uses cameras to acquire the polisher's movements then creates a corresponding programme within seconds. "The new polishing cell simplifies this solution even further," says Chief Executive Philippe Crevoisier. No programming knowledge is required – in fact programming something as subtle as an artisan-polisher's gestures and touch would be a complex process. "You have to keep an open mind," comments Gilles Beuret, an automation technician at Crevoisier, "but you soon pick it up. Half a day is enough to start producing the first pieces."
Collaborative polishing cell C710 Crevoisier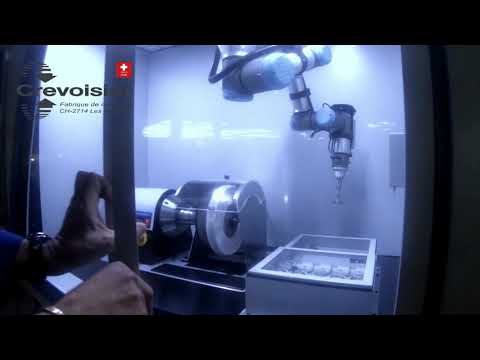 A mobile robot
Collaborative robots were also the main attraction on the neighbouring stand, at Stäubli, where the focus was not on machine learning but production modularity. The Swiss company, which employs 5,500 people worldwide, came to EPHJ with HelMo – a robot that doesn't learn by itself but does move around autonomously. "HelMo is able to locate its position using three integrated lasers," says Yann Stragiotti, Robotics Sales Manager. "It scans its surroundings then produces a digital map for up to one square kilometre. All you need do is tell it where to go and what to do." HelMo moves freely around the factory floor, going from one workstation to another where it can relieve human operators of the more monotonous tasks. "It's the perfect solution for creating flexible production systems or for manufacturing personalised articles," adds Stragiotti.
Whether it's collaborative robots, embedded intelligence or production agility, Industry 4.0 relies on data acquisition and processing. But what's easily achieved in the context of the general public – the likes of Google and Apple have no qualms about helping themselves to phenomenal quantities of users' personal data – is a lot harder in the context of industry. Not to say impossible in the watch industry. Ask Precitrame, which manufactures CNC rotary transfer and finishing machines in the Swiss Jura. "We have developed solutions for predictive maintenance and autocorrection of machines; a kind of dashboard that we use to support our clients as well as to improve our products," explains Managing Director Olivier Voumard. "Except we're constantly coming up against barriers in the watch industry. Some of our clients won't even let us take a USB stick into their factory, let alone store data in the cloud. It's extremely frustrating."
The HelMo autonomous mobile robot system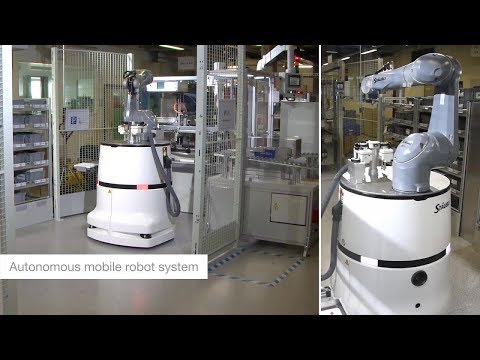 Precitrame employs 220 people, a quarter of whom are in R&D and around a dozen in software production. It would like to see a standardization of IT tools that would allow anonymous data collection. Voumard acknowledges that "connecting the machines does give access to a lot of information, such as how long workstations were in use or the number of components produced. Hence why clients insist that we install these dashboards in their facilities. If it's to move ahead, the watch industry has to find a way round this." A change in mentality could well be the place to start.