"We may look upon La Chaux-de-Fonds as a huge watch manufactory." This sentence rings as true today as it did in 1867, in Karl Marx's analysis of the division of labour in Volume 1 of Das Kapital. This unique characteristic, also a feature of neighbouring Le Locle, earned both towns their designation as UNESCO world heritage sites ten years ago – an anniversary celebrated throughout 2019. Adding to the excitement, Switzerland and France, working with a steering committee of parties from both countries, have submitted an application for mechanical watchmaking and the manufacture of automatons and musical boxes to be recognised as intangible cultural heritage. If the request is successful – verdict expected in 2020 – La Chaux-de-Fonds and Le Locle will join the rarefied list of twice-listed sites.
As towns go, La Chaux-de-Fonds and Le Locle are hardly typical. Logically, they shouldn't even exist.
A hostile environment
As towns go, La Chaux-de-Fonds and Le Locle are hardly typical. Logically, they shouldn't even exist. Perched high in the Swiss Jura mountains, at around 1,000 metres (3,300 feet) above sea level, they are among the most elevated towns in Europe, with the various difficulties this implies – the most obvious being supplying basic necessities (including water), accessibility and the harsh winter climate. They are, put simply, the last place on earth anyone would choose to set up an industry.
Montre-moi... La Chaux-de-Fonds - Urbanisme horloger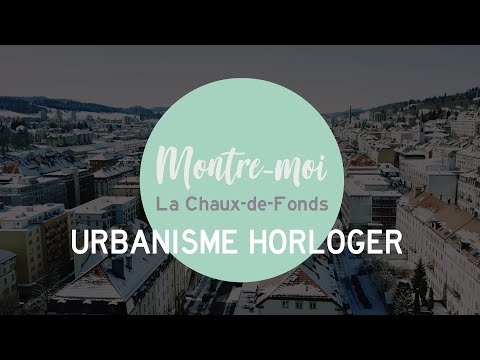 Undeterred, a handful of individuals settled there in the fourteenth century, encouraged by the tax exemptions granted to anyone willing to inhabit such an inhospitable region. They farmed land they had cleared in the forest, but this was no easy life. From the mid-1700s, certain of these modest farmers turned to watchmaking as a viable source of income during the barren winter months. The space beneath the eaves of their farmhouses were transformed into workshops, still recognisable today by a row of larger windows.
In 1794, a cluster of rural buildings prefigured the present-day La Chaux-de-Fonds. A large part of the population was engaged in supplying the region's watchmakers with components. That year, however, a terrible blaze swept through the village. Only those farms furthest from the centre were spared (which explains why there are now so few in the immediate vicinity of the town).
The "3 x 15" rule
This would be the start of a new era. La Chaux-de-Fonds was rebuilt not as a farming town but to accommodate its principal activity of manufacturing watch parts. Conditions were ideal for its economy, as well as its population, to thrive. Indeed, the town's growth was such that in 1830 the local authorities initiated a programme to manage this expansion: this was the "Plan Junod".
Charles-Henri Junod, a civil engineer from Neuchâtel, the capital of the canton, was tasked with drafting a layout for the town that would suit the nature and functioning of its primary industry. He noted that watchmakers used simple hand tools and created little nuisance, hence there was nothing to prevent them from working within the town itself and even inside residential buildings. The only requirement was an abundance of natural light. Junod's solution would be the "3 x 15" rule. Denis Clerc is the former municipal architect and presides the regional branch of the organisation tasked with promoting and protecting Swiss heritage. He explains how Junod designed south-facing buildings, each 15 metres (50 feet) wide, with a garden space on one side and a street on the other, also 15 metres wide. This way, as much sunlight as possible entered every building.
Rapid development
La Chaux-de-Fonds became a hive of activity as, thanks to Junod's layout, workshops opened throughout the town. However, these different artisans had to communicate with each other, hence the town's second specificity: its grid layout. "Think how much snow falls here," says Denis Clerc. "If the roads are blocked, business grinds to a halt. The wide, straight streets make it easy to clear snow quickly."
A few miles from there, Le Locle developed at a similar rate, in identical circumstances. Destroyed twice by fire, in 1833 and again in 1844, it too adopted the "Plan Junod". Built by and for watchmaking, both towns saw their populations explode. From 5,000 inhabitants in 1800, a century later 40,000 people were living in La Chaux-de-Fonds. At the turn of the twentieth century, spurred on by the industrial revolution, more than half the timepieces produced worldwide came out of this one "metropole horlogère"!
Today, brands such as Cartier, Jaquet Droz, TAG Heuer and Breitling have opened vast, modern manufacturing facilities in the surrounding area, but La Chaux-de-Fonds and Le Locle remain home to a considerable number of watch companies – a fact that has its importance and one of the reasons why, encouraged by the organisation presided by Denis Clerc, these are still busy, bustling towns today.
Festivities for the 10th anniversary of the UNESCO listing began in March and will culminate over four days, June 27th to 30th, with a vast programme of events that includes a firework display, a concert and guided tours combining watchmaking with culinary specialities. Later in the year, November 1st to 3rd, more than 250 sites and companies will open to the public for a special edition of the Biennale du Patrimoine Horloger.